Media appearances by Heather Jeffcoat on women's health issues
Heather Jeffcoat, DPT has been a featured writer in a number of print publications, and her increasing recognition as a leading expert in her field has resulted in appearances on "Loveline with Mike and Dr. Drew" and "Estrella TV" featuring Adriana Ruggiero. The demand for her expertise is on the rise as more and more women seek to remedy the issues that Heather and her team regularly deal with.
For media inquiries, please use our secure contact form here.
Heather was recently interviewed by the popular feminine e-commerce company HelloFlo regarding the prevention of yeast infections. Here is a short excerpt:
"It's a universally agreed upon fact that yeast infections are incredibly irritating — especially when they keep coming back."
"They're messy, they can get in the way of your sex life, and they can even compel you to scratch your crotch in public at inopportune times."
Details

Written by

Webmaster
Read more: Heather Interviewed by HelloFlo About Preventing Yeast Infections
Fusion Wellness PT founder Heather Jeffcoat, DPT was interviewed on the Morning Show with Aaron Sanchez of ABC News, with discussions of pelvic floor issues, PT treatments, and Heather's book taking center stage.
Details

Written by

Webmaster
Heather Jeffcoat, DPT is proud to have been one of the producers of the short film "Tightly Wound"

Details

Written by

Webmaster
The wildly popular health website Livestrong reached out to Heather for their recent article entitled "The Best Sex Positions for Any Kind of Lover".
The full article can be found here.


Details

Written by

Heather Jeffcoat, DPT
Heather Jeffcoat, DPT was the featured guest on Loveline with Mike and Dr. Drew, on Tuesday, February 10, 2015.
Loveline was formerly a syndicated radio call-in talk show in North America offering advice on sexual health, medical issues, and personal relationships, often with the assistance of guest actors and musicians. Dr. Drew Pinsky was its host through most of its run, and he was often paired with another radio personality. The interview with Heather featured Dr. Drew as well as fellow host Mike Catherwood.
Pinsky departed from the show in April, 2016, and the show has since been rebooted as a podcast now hosted by Amber Rose.
Click the link below to listen to the show or download it for later listening:
http://fusionwellnesspt.com/video/llpod-2015-02-10.mp3
Details

Written by

Heather Jeffcoat, DPT
Heather was the featured expert on the December 14, 2014 edition of Estrella TV with Adriana Ruggiero.


Video coming soon!
Details

Written by

Heather Jeffcoat, DPT
Subcategories
Heather Jeffcoat, DPT on Girl Boner Radio with August McLaughlin
Heather Jeffcoat is a regular guest on August McLaughlin's wildly popular podcast on women's health and sexuality, "Girl Boner Radio". Listen in as Heather and August discuss issues that can lead to painful sex, including treatments for vaginismus, endometriosis and other common pelivic floor issues.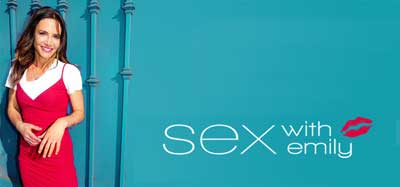 Heather Jeffcoat, DPT on the "Sex With Emily" Show with Dr. Emily Morse
Listen to Heather Jeffcoat's appearances on Dr. Emily Morse's podcast "Sex With Emily" as they discuss getting past the pain holding you back from better sex and more.